The aim of Atom Spain is to help our customers to solve in a professional manner their production needs in the different sectors in which we are present.
Our main field of activity focuses on cutting systems for any flexible material, as well as in different production teams, especially those that provide a technological component focused to provide a solution to the new challenges that our customers face.
Aware of the current demands of the market and the speed and quality of Service that our customers demand, Atom, Spain Int. SL puts at your disposal a technical team of professionals formed by computer engineers, telecommunications engineers, electronic engineers, electronic technicians and mechanics whom in addition to their knowledge have a vast experience in different sectors of production, which means an added value to our service.
The professional qualification of our staff is a key element and therefore there are ongoing training programs with the objective of having a fully updated team of technicians that can meet the varied needs and provide real solutions efficiently and effectively.
Our purpose is to provide quality services which are reflected in the speed of our responses and the pursuit of excellence in the delivery of client support.
We understand that the productive capacity of our customers should be specially cared for and that the speed of response and even the substitution or replacement of parts are substantial points of any efficient customer service.
We have a call center service and remote connection for those installations that require it.

Technical support number: +34 965 386 244
Support email: soporte@atom-spain.com
*Attendance subject to availability and celebration of the fair in each case.
ATOM is developing the project "Technology for the detection of defects at source for the manufacture of leather goods". This project aims to develop a technology for the detection of defects (visible and non-visible) on tanned leather, that allow for the automatic inspection and real-time leather used in the manufacture of of leather items and the creation of a digital map with this data, which subsequently can be used as a support of an intelligent treatment during the phases of design, nesting of parts and cutting.
The FAULTSCAN project started in April 2019, in Elda (Alicante), and will end in March 2021, with a budget of €452,940 co-financed by CDTI and FEDER (European Regional Development Fund).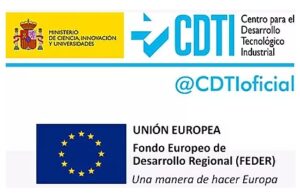 BANK SANTANDER PRESCRIBER CHANNEL AGREEMENT
Atom España has signed an agreement to join the Banco Santander prescriber channel, to facilitate our customers the acquisition of machinery under different formulas and facilities, such as leasing, renting or financing.